Top 10 Romantic Places In Bangalore For Couples – Sweet love, oh! We are aware of how powerful it is. And commemorating your romance can be so much fun while you're in Bangalore. It is home to a variety of locations to visit in Bangalore for couples where you can both sit back and allow your eyes do the talking.
It is peppered with several lovely venues and dreamy attractions. Whatever your concept of a romantic date—heart-melting, amusing, mushy, or utterly adventurous—Bangalore has a diverse selection of locations and activities to spark the flames and keep them ablaze.
Top 10 Romantic Places In Bangalore For Couples
In this metropolis, spending quality time with your boyfriend has a whole new meaning! If you have a love-driven personality, check out these fantastic spots to visit in Bangalore with your significant other where you may both enjoy Cupid's charms in all their splendor. Bangalore hotel reservations
1. Lal Bagh Botanical Garden, Bangalore
Don't flowers represent romance and love? An exciting world of romance is waiting for you at Lal Bagh Botanical Garden in the shape of exotic, vibrant blooms. The wonderful lake located inside the garden adds to the area's charm and provides you with the ideal backdrop for a group selfie.
Lal Bagh is actually among the most romantic locations in Bangalore where you may enjoy a stroll hand in hand with your special someone or sit under one of the many trees and converse for hours on end.
Lal Bagh is a haven of tranquility that is the ideal place to date because it is a world apart from the noise and chaos of the city. You and your companion who is obsessed with fitness can perhaps decide to go for an early-morning stroll around this 240-acre garden.
Timings: 06:00 am to 07:00 pm; every day
Entry Fee: ₹ 20 per person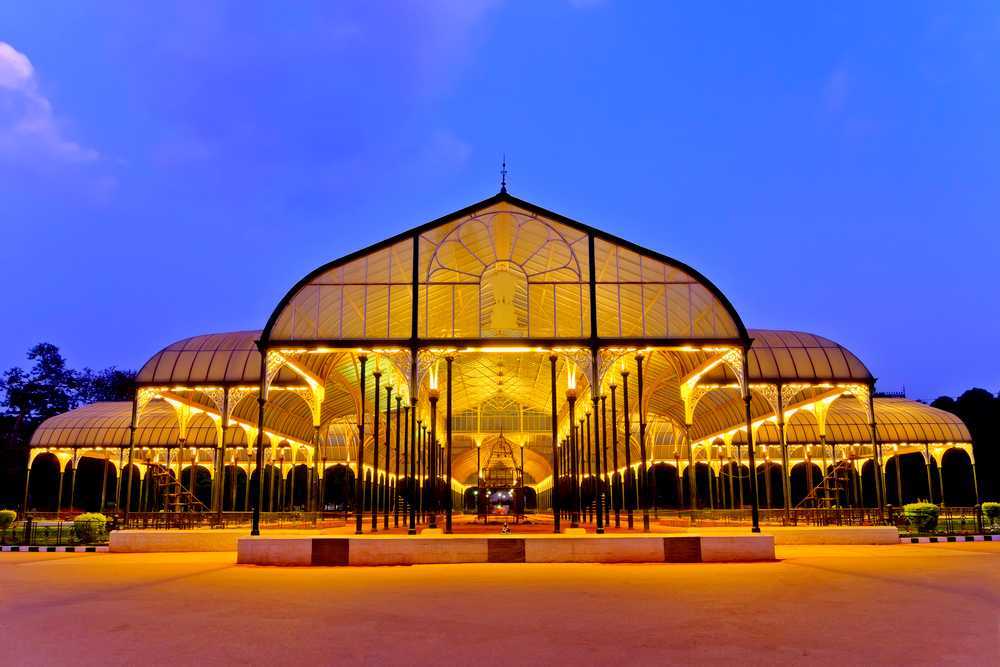 2. Cubbon Park, Bangalore
Cubbon Park is a charming green oasis that consistently rates well on lists of the most romantic spots for couples to visit in Bangalore. The expansive park's 300 acres are home to stunning flowerbeds, trees, and historical monuments.
In this busy city, taking a stroll down its attractive walking routes is a delightful opportunity to spend some alone time with your special someone. Take your special someone for a stroll in this lovely park on a starry evening.
Location: Kasturba Road, Ambedkar Veedhi, Sampangi Rama Nagar, Bangalore
Timings: 06:00 am to 06:00 pm; closed on Mondays and second Tuesdays
Entry Fee: No fee
3. Bannerghatta National Park, Bangalore
There aren't many Bangalore attractions for couples that can offer as much fun, excitement, and adventure as Bannerghatta National Park. You may take in the splendor of the animals by visiting this national park.
You'll be kept amused and thoroughly engaged by attractions including the sizable zoo, butterfly enclosure, snake house, aquarium, and boating. By taking the exhilarating safari trip here, you may make your wildlife date into a special occasion.
Location: Bannerghatta Main Road, Bannerghatta, Bangalore
Timings:
Zoo – 09:30 am to 05:00 pm
Safari – 10:00 am to 04:30 pm
Closed on Tuesdays
Entry Fee:
Zoo – ₹ 80 per person
Butterfly Park – ₹ 30 per person
Grand Safari (Safari +Zoo) – ₹ 260 per person (weekdays); ₹ 280 per person (Weekends and Public Holidays)
4. Lumbini Gardens, Bangalore
What could be more fascinating than spending countless hours having fun and revelry with your significant other at a fantastic amusement park? Because of this, Lumbini Gardens is one of the most popular locations in Bangalore where couples can have a great time and let loose.
This location guarantees wholesome enjoyment throughout the day with its abundance of exhilarating rides, boating amenities, wave pool, and a floating restaurant. Do not pass up this location if excitement and adventure are on your mind. While you're in the city, would you like to have more fun?
Location: Nagawara Lake, Ring Road, Hebbal, Bangalore
Timings: 11:00 am to 07:00 pm; every day
Entry Fee: ₹ 50 per person
Wavepool Fee: ₹ 200 per person
5. Bangalore Palace, Bangalore
Love romances from fairy tales? Consider taking your significant other on a date to a castle that seems like it came from a fairy tale. Bangalore Palace has all of these things and much much more, including grand architecture, expansive grounds, stunning ballrooms, and soaring turrets.
Couples who want to experience grandeur and elegance in one day should visit this intriguing location in Bangalore. Along with your spouse, you can simultaneously have a fantastic time while enjoying this palace's splendor.
Location: Vasanth Nagar, Bangalore
Timings: 10:00 am to 05:30 pm; every day
Entry Fee:
Indian Citizens – ₹ 230 per person
Foreign Nationals – ₹ 460 per person
6. Nandi Hills, Bangalore
Just picture how it would feel to stroll hand-in-hand with your significant other toward the clouds. Are you excited by the concept? next proceed to one of the city's most popular tourist destinations, the Nandi Hills. This historic hill fort is a fantastic location to take in breathtaking sunrise and sunset views.
It will feel as though you are traveling through the clouds that are hovering over you as you make your way to the summit of the hill. It makes sense that Nandi Hills is regarded as one of the most romantic locations in and around Bangalore. It is strongly recommended to visit the location in the morning when the breeze is cold and the atmosphere is breathtaking with the golden rays of the rising sun.
Location: Chikkaballapur, Bangalore
Timings: 06:00 am to 06:00 pm; every day
Entry Fee: ₹ 5 per person
7. Ulsoor Lake, Bangalore
A romantic option to spend a quiet evening together is to take a boat ride on the serene waters of the lovely Ulsoor Lake. The enormous lake, which is dotted with lovely islands, emits a special appeal that never fails to enchant visitors.
Couples come here in large numbers because of the romantic atmosphere that this location exudes thanks to the gorgeous environment, the surrounding foliage, and the tranquility of the lake. Make sure to arrive at the lake in plenty of time to catch the sunset, which is a magnificent sight to see here.
Location: Sivanchetti Gardens, Near MG Road, Bangalore
Timings: 06:00 am to 08:00 pm; closed on Wednesdays
Entry Fee: No fee
8. Thattekere Lake, Bangalore
The fact that Thattekere Lake is a popular destination for couples nearby Bangalore doesn't diminish the attractiveness of this beautiful lake in the slightest. Thattekere Lake, a picture of tranquility, gives you the chance to spend some romantic time with your significant other away from the bustle of the city.
The area is home to many different types of avian populations, so you can both enjoy some great bird watching at the same time. It makes sense that the lake is a popular exotic weekend destination for couples near Bangalore.
Location: Thattekere village, Bangalore
Timings: NA
Entry Fee: No fee
9. Hebbal Lake, Bangalore
Hebbal Lake, which is surrounded by breathtaking scenery, is one of those locations where all you would want to do is sit with your significant other and lose yourself in each other's eyes. As nature starts to work its magic, life around the lake seems to slow down. You can see a stunning variety of exotic birds jumping or soaring around if you can snap out of your daydream. It's also a visual joy to watch the sun rise or set here!
Location: National Highway 7, Bellary Road, Outer Ring Road, Bangalore
Timings: NA
Entry Fee: No fee
10. Sankey Tank, Bangalore
Sankey Tank, a man-made lake located in Malleshwaram's suburbs, is a favorite hangout for couples traveling to the city. The lake is a great area for a stroll or to sit down and spend time with your soul mate because it has a wonderful walking path, boating options, and a green canopy of trees.
The atmosphere at the Sankey Tank may become rather romantic as the migratory birds fly by and the sun begins to set for the day, fanning the flames of love between you two even more.
Location: 11th Cross Road, Kodandarampura, Gayathri Nagar, Bangalore
Timings: 06:00 am to 08:00 pm; closed on Fridays
Entry Fee: ₹ 10 per person


For More Topics on Relationship